Artificial grass is normally associated with sporting venues. However, it has become ever more popular for use on lawns and for commercial use. The advantage of artificial grass is low maintenance as there is no need to water or trim.
Our Kinsale grass is perfect for residential lawns. Its thick, luscious green blades give your garden a natural, fresh look all year round. This grass requires minimal maintenance for optimal results and is water resistant. It is soft underfoot, durable and long lasting making it a long-term investment to your outdoor space. To keep it in good condition, we recommend our Vacmaster Artificial Grass Vacuum Cleaner to remove any dirt or garden debris.
You can view this grass in our showroom; you can walk and feel the texture of the grass and visualise how this will look on your lawn. We can also send out samples free of charge for you to try out before making a decision.
There is a delivery charge, however, we try to remain competitive, or alternatively, it can be collected free from our warehouse in Dunboyne.
Key Features:
Ideal for large and small gardens.
Pet friendly grass.
Save money and gardening long term with this low maintenance solution.
Can be bought in a 2 meter wide and a 4 meter wide roll.
Stock is held in Ireland, and can be collected by arrangement from our Dunboyne warehouse.
Comes with a standard 10 year warranty but with proper care will last for much longer.
You are welcome to call us for friendly advice or to order over the phone and if you are not sure about your measurements and how to measure or what grass you would like, we would be delighted to assist you.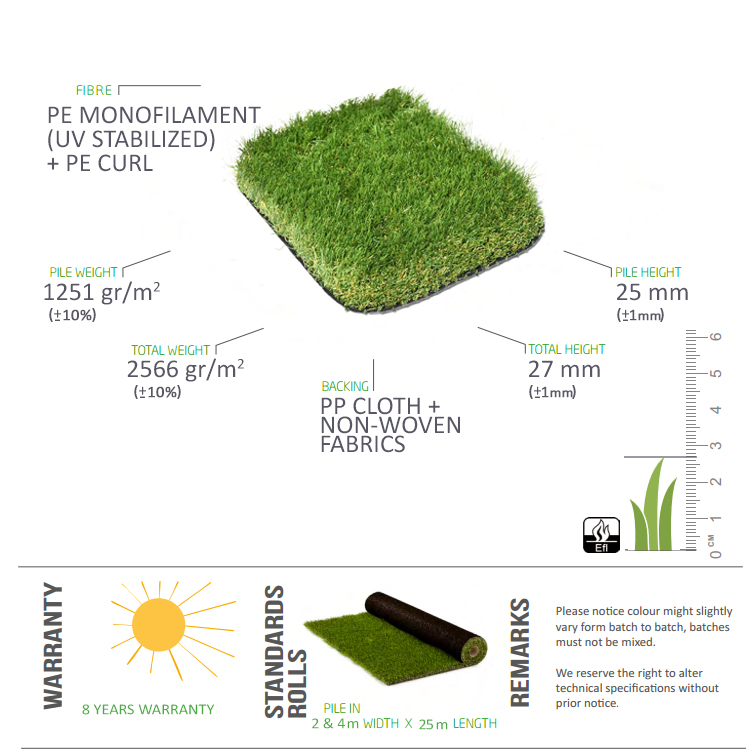 | | |
| --- | --- |
| Pile Height | 25mm (±1mm) |
| Total Height | 27mm (±1mm) |
| Pile Weight | 1251 gr/m² (±10%) |
| Total weight | 2566 gr/m² (±10%) |
| Fibre | PE Monofilament (UV Stabilized) + PP curl |
| Yarn Shape | C Shaped |
| Yarn Decitex | 6600/8 dtex +4400/8 dtex |
| Primary backing | 100% UV resistance PP cloth+non-woven fabrics, weight 120g+60g |
| Coating | SBR latex |
| Water permeability | Approx. 1600 - 1800 litre/m²/hour |
| Tuft gauge | 3/8" gauge |
| Stitches per m¹ | 220 (±3%) |
| Stitches per m² | 15750 (±3%) |
| Drainage Holes | 80 - 100 per m² |
| Roll width | 2 metres and 4 metres |
| Roll length | Length approx. 25 linear metres |
Delivery and Returns Information
Delivery is charged on a per item basis. If you are purchasing multiple products in one transaction you will only be charged one delivery rate. This rate will be calculated on our checkout page. Parcels will be packaged separately where possible to reduce the chance of damage.
We aim to deliver within a few working days if the item is in stock. If for any unforeseen reason an item is out of stock we will call you with similar product options or a revised expected delivery date, or to arrange a refund if necessary. Certain items are drop-shipped directly from the manufacturer. If this is the case for your order, you will be informed before delivery.
Deliveries of most large items to Co. Dublin, Co. Meath, Co. Kildare & Co. Wicklow will be done by Outdoor Living drivers. Delivery of smaller items to these areas will be done by Fastway or An Post. Deliveries of large items to the rest of Ireland and to Northern Ireland will be done by Independent couriers. Your delivery method will be confirmed via email or phone before delivery.